Hiking Mount Whitney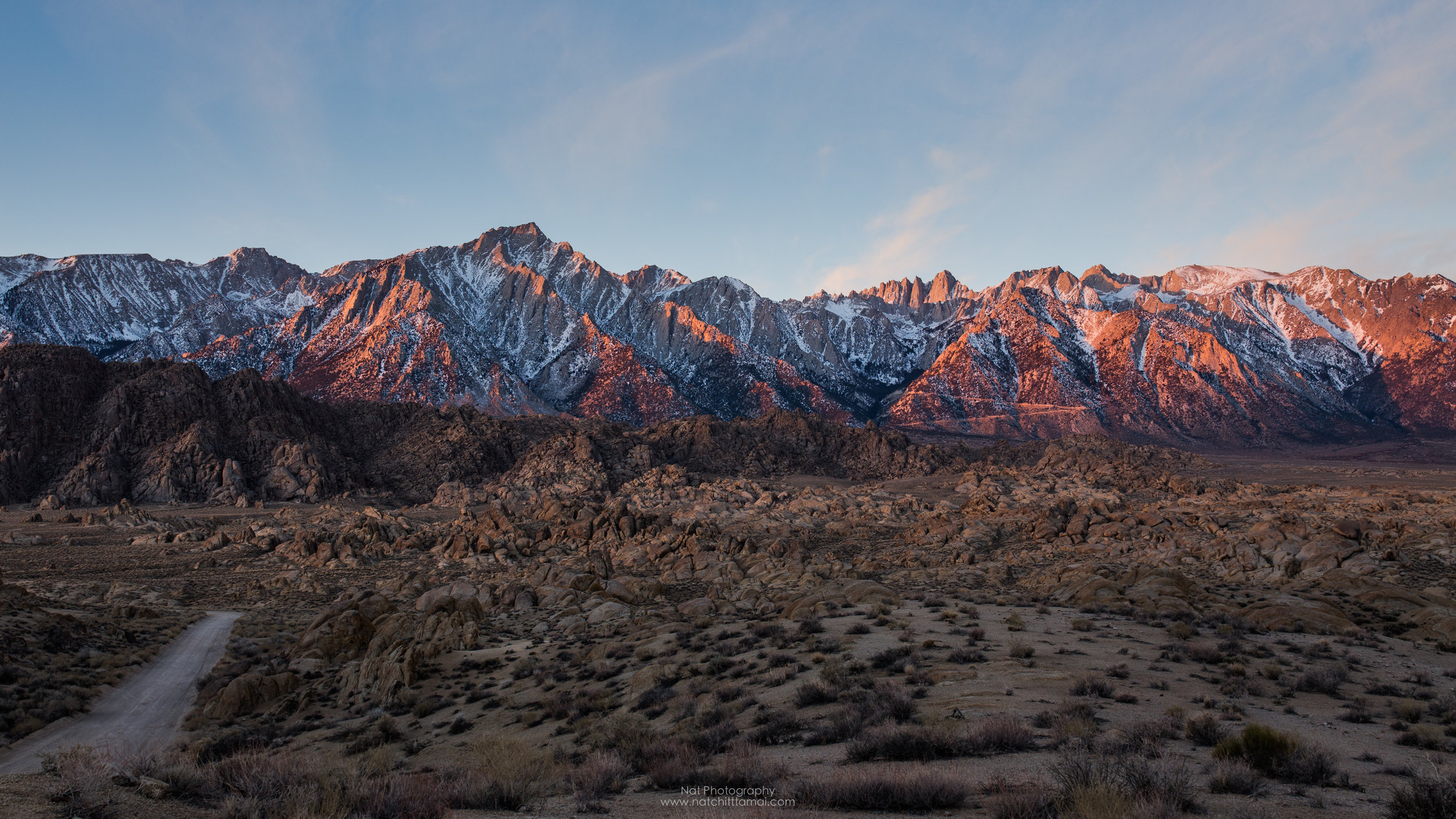 Dec 24th
My friends and I came to Alabama Hills to take pictures of the beautiful mountains. Mount Whitney was one of them the the range of Alabama Hills.

"We just drove from the lowest point of USA, Badwater, to see the highest point of USA in lower 48, Mt. Whitney." Wisanu said.
Oh, Mount Whitney
She was standing tall and beautiful with snow on her. She is the tallest in USA under lower 48. Now, I wonder how hard to hike this mountain.
After I came back from this trip. I did research about this mountain and prepare to get a permit. I know it's not easy to get one. I'll see. I would love to hike to the top of this beautiful country before I leave.
April 1st
I clicked refresh on my inbox to see if I get the permit lottery result.
Ding!

Hi, Nat

Thank you for applying to the Mt Whitney Lottery 2019. The lottery drawing recently took place and unfortunately. Your application wasn't successful.
Oh well, I'm not so lucky. But hey, there is going to be another chance to get permit on May 1st for unclaimed permit.

May 1st
The 9 AM alarm woke me up and rushed to my laptop to check the unclaimed permit. Man, I was nervous. Hiking Mt Whitney is like a dream. And, this is my last year in USA, so I don't have another chance.
I clicked on the link I saved.
Purchase Unclaimed Permit
THERE IS A HUNDRED OF PERMITS AVAILABLE!!!!!
Omg, Omg, I was super happy. I would say 80% of the permits are available.
July 16th, this is the date I want.
one day permit - click!
Reserveration Confirmation

Yasssss!!!

July 14th
I arrived Lone Pine.
My feeling of being in this town is very difference than the last time I visited.
I was more nervous because I have a goal to accomplish, to summit Mount Whitney.
I also need to acclimatize since I'm from altitude 500 and I'll end up hiking to altitude 14,505.
That's a big difference.
Lone Pine Lake Trail
My goal today is to hike to Lone Pine Lake, which is 3 miles with 1700 altitude gain.
Alabama Hills
I drove back to stay in Alabama Hills at night.
Alabama Hills is in BLM Public Lands, which means you can camp for free.
I thought about set a camp but since it's only me. Sleeping in a car is probably a better idea.
July 16th
I woke up at midnight.
It was 5 minutes before the alarm. I was nervous but ready. I know this hike is dangerous.
People die on this mountain.
There is no joke.
I tell my self, I'll be smart and brave to turn back if there is a hesitation during this hike.
I washed my face, brushed my teeth.
Moon is so bright above the mountain lit every thing.
I could see other people getting ready to. I wasn't alone.
Here is the idea of how people hike Mt. Whitney for one day.
Mt Whitney Trail is 22 miles with 8,000 elevation gain.
It usually take 12-16 hours for a one day hike.
The goal is to hike back to Whitney Portal before the Sun comes down.
Here is my plan.
I will start around midnight and get to the top before noon.
Therefore, I have 8.5 hours to hike back to Whitney Portal.
Don't be Stupid and Come Back Alive!
That's a warning. I started hiking. People die on this mountain. This hike is not something you go without a plan.
It's a very serious hike.
The Hike
"Are you about to start hiking?" I asked a gentleman at the entrance.
"Yes" He answered.
I kept the conversation going and I've learned his name is Dennis.
Dennis came from Aspen, Colorado. He is 66 year-old. He loves hiking and he is going to solo hiking Mt. Whitney.
"Shall we start?" I asked Dennis before we started our hike.
"You can go ahead of me. I'm planning to enjoy the hike." Dennis said.
"I'm in no rush. I think it's a smarter idea to have a companion, if you don't mind." I told him.
Dennis is a quiet guy. He is super nice though. Dennis hiked without a trekking pole. He doesn't like it. I asked him.
Mt Whitney Trail
Distance - 21.9 miles
Elevation Gain - 6,715 feet
Route Type - Out & Back
Difficulty - Hard
The hike was so beautiful. The Moon was so bright above the mountain.
After two hours of hiking, we reached Lone Pine Lake, which is the entrance is Whitney Zone, the permit is required
Whitney Zone
"Nat, I think the trail is on this way." Dennis called me after he saw me stop and wondering around. I pulled up my phone to look for the map. I have All Trail to track all my movement here. You DO NOT want to be lost in wilderness.
"You are right Dennis." I walked back into the trail.
It's still dark and we have three more hours before the Sun rises. Head lamp and the Moon is only our light sources. I would say it's enough but there a few spots that I couldn't tell where the trails are.
"Hey buddy, I think the trail is this way."
I found another hiker stop and wondered just like what I did. His name is Andres.
Andres is a young hispanic man with beautiful long hair. I saw his pink permit hangs on his back.
"Are you on JMT?" that's my guess because his permit is not the same color as mine.
"Yes sir" Andres politely answered me. He has two and a half week long to go
The Cables
At around 13,000 ft on Mt Whitney trail is called "the cables". It's in the middle of awful 97 Switchbacks. This section of the trail is always in the shade. The snow should already be melted by mid July, but not this year.
I reached the cables around 9 AM and the ice still covered the stone. You can see in the video that Andres slowly walked on the rock covered with ice and succeeded cross this section. Yes, it's dangerous. That's a reason why hikers should have an ice axe for self arrest if he/she slip or fall off the edge.
I went under the cables and climbed up at the end of the cables. It wasn't too scary and I felt safer that way. Rock climbing skills came in handy. The rest of the group went between the snow and the wall.
"This trail is so dangerous." I talked to myself.
"Why no one tell me about this or even post a picture of this edge." people do not talk much about how dangerous on Trail Crest but it does scary.
Trail Crest is the last stage to summit Mt Whitney. The trail is 2 miles long leading to the top of of Mt Whitney.
I could feel the wind gets stronger as I hiked up higher. There was no more tree but plants and tons of rocks.
I walk on the crest of the mountain, so there is no mistake here. I looked down on the left and tell myself to to concentrate. I would hate to go down 2000 feet in one missing step.
"I need a break. Yall can go ahead." I stopped and sat on a big rock while made myself small, so other hikers can go pass me.
I took a break almost every 10 minuets. I just couldn't catch my breath.
I thought asthma is back. I used to get tired very easy when I was a kid. I never had asthma for a very long time since I started working out and rock climbing.
I thought it was gone.
AMS hits me really hard
Acute Mountain Sickness (AMS) happens when you hike higher than 8000 feet. Your body doesn't get acclimatized to the altitude.
You become weaker, and lack of appetite due to the number of oxygen molecules per breath decreases.
That was the moment when I realized why hiking Mt Whitney is very difficult.
You can be strong as Hulk and training as hard as Captain America.
Well, AMS is an invincible enemy that will come and hit you right on your head.
All you can do is just sit and breath.
"Nat, you got this. You almost there." I say this to myself when I feel the situation gets hard, and overwhelming.
Just take it slow.
Snail pace is good for me.
Just keep going forward.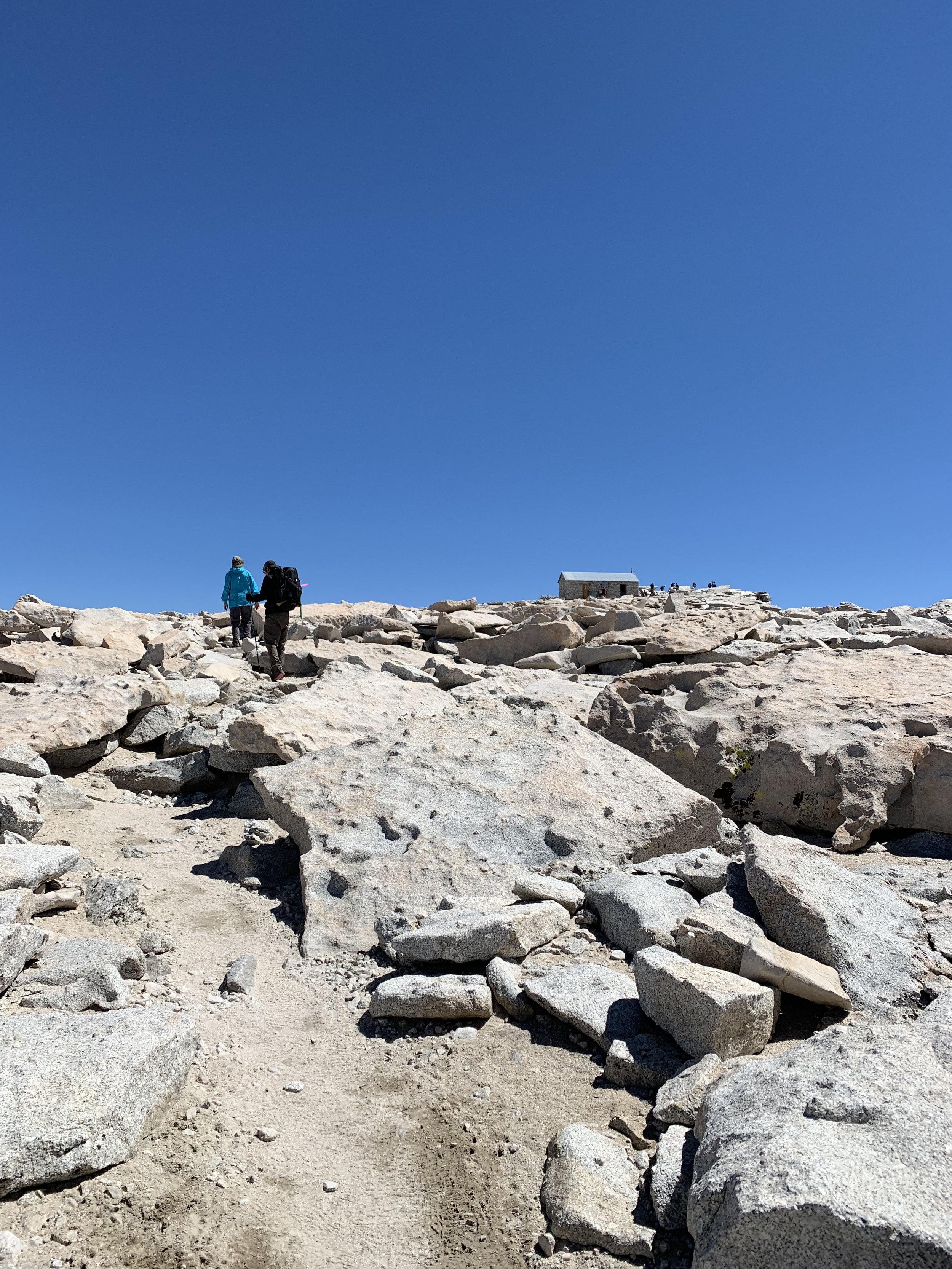 "You are almost there NAT!!!'" I could hear Andres shouted to me from up the hill.
Dennis was already there.
My heart was pumping so fast. Finally, This is the last hill to climb.

This is a building as a sign that you have summited Mt Whitney.
I MADE IT TO THE TOP!!!
I felt so unreal. I have seen the pictures of this building for a half year on Facebook. Now, I'm seeing it in person.
It took me 10 hour and half for me to summit this mountain.
Hiking to the top is only half way.
It took me another 7 hour and a half to get back to
Whitney Portal at 7:20 PM
My total hike is 18 hours.
I'm safe back to my car and I'm so proud of myself.
"Why did you hike this mountain? It's so dangerous." My dad asked me.
I believe everything we do has risk. Just think about driving to work every day. We have a chance to get in a car accident but we do not. Because we are smart and be careful.
It's the same. I believe taking a risk is important. I might learn something from it either I succeed or not.
Good things take time and not come easy.
I see Mt. Whitney is something I can archive. It's not going to be easy but I'll ready for it. I prepare equipment, my physical, and mental to be ready.
My goal is to come back down in one piece. Get to the summit is a plus.
After 10 hours and a half, I summited Mt Whitney. I came back down to Whitney Portal after 18 hours of hiking.
I did it. It was difficult. Like. Freaking difficult.
But it wasn't too difficult.
Now, I can see many things in my life become easier. I just have to be smart about it and I have to try.
Sometime you need to take a risk to learn things.
You might learn that you are actually capable more than you think.
July 16th
Walking Distance - 23.8 miles
Steps - 62,407 feet
Flight Climb - 217 stories